Hoopla

Hoopla is a groundbreaking digital media service offered by the library that allows you to borrow movies, music, audiobooks, ebooks, comics and TV shows to enjoy on your computer, tablet, or phone – and even your TV! Hoopla is the leading all-in-one digital library app, with over 800,000 titles—from best-selling novels and blockbuster movies to niche, hard-to find content, hoopla has something for everyone. AND NOW, welcome Acorn TV!. You can now download captivating crime thrillers, addictive dramas, intriguing mysteries and warm hearted comedies on Hoopla with your library card and all for free.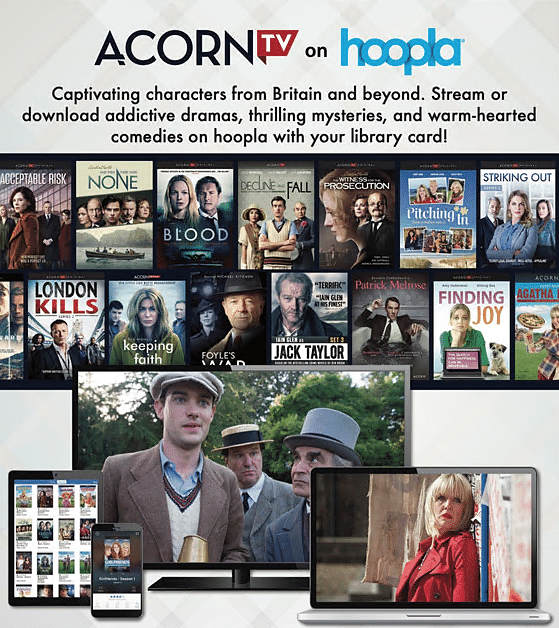 Available via Web, Mobile and More!
You can stream titles through your desktop browser or our mobile app. If you use our mobile app, you can also download titles to your device for offline playback later, where Wi-Fi may be unavailable. Titles are automatically returned and removed from your device at the end of the lending period.
It sounds too good to be true… we know, but it's real …and all thanks to Bega Valley Shire Library.
You can use Hoopla via a browser - https://www.hoopladigital.com.au/ or by downloading the app from Google playstore or Apple app store

Watch the how-to-video below to learn everything you need to know.
Patron App Video from hoopla digital on Vimeo.
The app is available on the following devices:
iOS 11.4.1 and above
Android 6.0 and above
Chromecast 1st and 2nd generation including Ultra and Smart TV's
Amazon- Fire OS 6.0.0 and newer
DeskTop Browsers- Edge, Chrome and Firefox and Safari on Mac
MacOS 10.7 and above
Fire TV-1st, 2nd and 3rd generation devices
Android TV-all