Author Talks
Craig Reucassel presents Fight for Planet A
Join well known Comedian turned activist and presenter of ABC's War on Waste Craig Reucassel as he discusses his book 'Fight for Planet A', the climate challenge and what we can do when there's no Planet B.
Most Australians accept that climate change is real, but many don't know what to do about it and feel powerless to make a difference.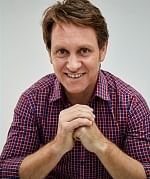 In Fight for Planet A, the book of the ABC series of the same name, Craig Reucassel shows that it isn't as scary as we think, and we can make a difference to help protect the world for future generations.
Numbers are limited for this free virtual event and bookings are essential. This event will be broadcast online using Zoom. Book your place and we will send you a Zoom link to join the meeting (download and install from zoom.us if you haven't already).
WHEN: Monday 16 November, 6:30 pm, online
Signed copies of Fight for Planet A can be purchased from Booktopia. Presented with support of NSW Public Libraries Association.

Rainbow Steps to Peace and Quiet with Gary Rowlands and Illustrator Belinda Rosenbaum
Both Merimbula residents, Gary and Belinda have produced a wonderful book for children called 'Rainbow Steps to Peace and Quiet'. In this video interview, Gary explains how his book is helping children find their magical place to relax and revitalise their body and mind. This book is for big kids too! Read it together with your children and savour the value of quiet time through the use of imagination and the colours of the
FINDING AQUA PURA WITH SUSIE SARAH
Local author Susie Sarah visited Eden Library to talk about her new book 'Finding Aqua Pura'.
Susie developed the idea for her book after talking to children about what drought means to them. 'Finding Aqua Pura' focuses on a young girl, her farm experiences during a drought and her relationship with her grandfather as they work together to keep the farm going.
Susie's book 'Finding Aqua Pura' is avaliable to borrow at the Library.
LONG ROAD TO DRY RIVER WITH JENNIFER SEVERN
Relax into your spare time with our online book chat featuring local author, Jennifer Severn, talking about her recently published memoir, 'Long Road To Dry River' at Bega library.
Family dysfunction, life and travels as a follower of Bhagwan Sri Rajneesh, a diagnosis of multiple sclerosis...not to mention naked skydiving!!... Jen's adventures have taken her from Australia to India and Amsterdam before she landed in our midst in Quaama.
Jen's book is available on our shelves. Also from https://jennifersevern.com.au or Candelo Books and Collins Booksellers Merimbula